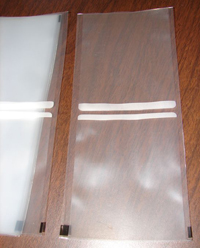 Frangible Technology
Labels, Incorporated offers a frangible Seal technology that is head and shoulders above the competition! Our technology produces a reliable, consistent burst strength that is chemically resistant and Tamper Evident that also adds significant value to any flexible package where multiple components are stored and allowed to mix within the package at the time of use. Custom configurations are available so contact one of our Technical team today!

Here are a few ways our Frangible Seal Technology works for You:

Epoxy systems, Adhesive Systems and Expandable Foam applications fully supported.
We install our frangible technology in a wide variety of substrates allowing for application specific design to maximize value to your customers.
Many of our products endure Retail market stability and performance!!
Reduce your current packaging, shipping costs and the environmental footprint of your products!